Upper Mustang Trekking
Mustang trekking is one of Nepal's most mysterious and least known adventures. The landscape of Mustang is a barren moonscape of eroded sandstone pillars and discontinuous moraine terraces, which together present a colorful mosaic made up principally of earthen reds, yellows and brown. It is relatively easy trekking along the permitted route to Lo Manthang, which lies in the very heart of Mustang. The trek to Mustang is through an almost treeless barren landscape. b winds generally howl across the area in the afternoon, subsiding at night. Being in the rain shadow of the Himalaya, Mustang has much less rain then the rest of Nepal.

The area covered by this trek is perhaps the last enclave of pristine Tibetan culture. Forbidden and isolated from the rest of the world it was able to evolve its own distinctive culture and traditional which is so rich & unique. The capital of Lo-Mustang is a walled city ruled by a religious king. Untouched by modern civilization, life in Mustang goes on as it has for centuries at an unhurried pace. As everywhere in the Himalayas, this area provides spectacular mountain scenery highlighted by Dhaulagiri at 8167 meters (26,795ft) and Annapurna I at 8091 meters (26,545ft). You will be surrounded by more than 35 mountains over 6000 meters (19,680ft) high. The elevation of the trails rise from 2815 meters (9,233ft) to 3780 meters (12,398ft) above sea level.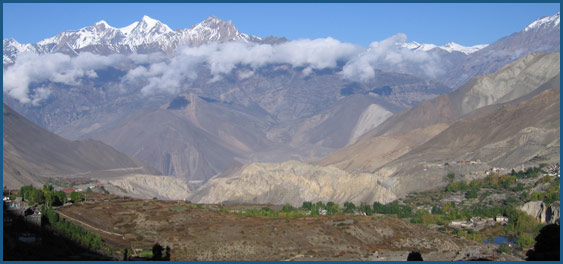 Trip Itinerary
Day 01 Arrival  in Kathmandu (1,300m)
Heartily welcome to country of Himalaya. One of Vista Trek`s team member will pick  you at the Tribhuvan intl. airport with the garland  and assists you to transfegr in your hotel in Kathmandu. After checking at the hotel and refreshment, you will be welcomed at our office. Brief discussion about trekking, introduction with the guide & porter and payment for the trip. Overnight at Hotel.

Day 02: Drive from Kathmandu to Pokhara (823m), 6 hours drive.
Today early morning drive to Pokhara by tourist bus. The bus goes through beautiful countryside and stop twice on the way for the breakfast and lunch.After arriving in Pokhara, you can freely explore the Lakeside area and it`s surrounding. Overnight at Hotel.

Day 03: Pokhara-Jomsom to Kagbeni (2,858), 3-4 hours walk
Early in the morning, we take 20 minutes scenic flight to Jomsom . Jomsom is the headquarter of Mustang District. After taking breakfast in the Jomsom, we start our trek to Kagbeni. It takes about 3 and half hours to to Kagbeni walking on gradual and windy path along the Kaligandaki river. The village is located on the bank of two river. Old houses, Buddhist monastery and some Hindu temples are interesting  In the evening we explore the village and it`s surrounding. Overnight at guesthouse.

Day 04: Kagbeni to chele (3050m), 5-6 hours walk
After breakfast we start our trek with special permit checking. Entering Mustang, we follow the east bank of the river, series of small ridge comes on the way. On the way, Buddhist monastery, chorten with red,black & white color, villages with white washed houses, surrounded by barley and buckwheat field is great. After 6~7  hours long walk, we finally arrive in Chele, a village with typical Tibetan style houses for overnight.

Day 05: Chele to Syanboche, (3475m), 6-7 hours walk
Today our trails goes series of large spurs. While going through the taklam La pass, Tilicho Peak, Yakawa Kang , Nilgiri and Damodar danda are beautiful. After the pass, further  3 hours walk will bring us  at Syanboche village  for the overnight.

Day 06: Syanboche to Charang (3500m), 7-8 hours walk
Today after breakfast, we start our trek with uphill walk to Yamda La. Passing some Tibetan style villages, houses and Chorten, we arrive in Nyi La pass(4010m), which is also the highest point of our trip. From here, we descend to Ghami and pass series of Mani Walls to reach Charang for the overnight.

Day 07: Charang to Lo-Manthang (3760m), 5-6 hours walk
Today we start our trek with easy climb to ridge of Lo. We then go little down to stream and again go up to reach main city of Lo-Manthang. The white walls, old houses, Monasteries and Palaces are making this city mysterious and exciting.

Day 08: Exploring day in  Lo-Mangthang
Today we have full day to explore this fascinating town. The king palace, monasteries and  panoramic view of Himalaya is the attraction for today. The local life style and their Tibetan culture have made this town one of the wonderful place in Nepal.

Day 09: Lo-Mangthang to Ghar Gumpa(3942m), 4-5 hours walk
Today after breakfast, we start our trek as early as possible as the trail is dusty and windy. It is easy walk today as the trail is almost down to Ghar gompa, another beautiful town of the area.

Day 10: Ghar Gumpa to Ghiling (3806m), 5-6 hours walk
Today is also the easy day for us. We continue to go down the valley to Ghiling for our overnight stay. It is windy and dusty during day so we can explore the village in the evening.

Day 11: Ghiling to Samar (3700m), 5-6 hours walk
Today we start our trek with slow climbing. The walk is beautiful as we have scenic mountain view around. After 5~hours enjoyable walking, we arrive in Samar for the overnight

Day 12: Samar to Muktinath(3800m), 6-7 hours walk
Today is our one of the toughest day of the trip. It is steeply climb to the pass followed the descend to reach Muktinath for the Overnight. Muktinath is holy place both for Hindu and Buddhist people. The town offer paroramic view of Mt. Dhaulagiri and it`s surrounding peaks.

Day 13 Muktinath to Jomsom.5 Hours walk
Today we visit the Muktinath temple early in the morning and continue our trek. It is easy and enjoyable downhill to Eklebhatti. From  here onwards we have  windy path. The trail is alomost flat for slightly more than hour and arrive in Jomsom for the overnight.

Day 14 Early morning fly back to Pokhara and same day fly to Kathmandu
Today we finish our adventure. After breakfast, we have 20 minutes scenic flight to Pokhara and same day fly back to Kathmandu. Transfer to hotel for the overnight.

Day 15 Transfer to airport for departure from Nepal.
This is your last day in Nepal. You can do shopping or buy some souvenirs for your family, friends or relatives until your departure to airport.  We will  transferred to the International Airport for your departure  your onward destination.