Gokyo Lake Trek is an alternative trek to the traditional Everest Base Camp trek. This trek not only offers beautiful views of the world's highest mountain peaks and the (Ngozumpa Glacier, in the Nepal Himalayas) but also provides an ample opportunity to see a mesmerizing view of Mt. Everest. We can see a soaring view of the most popular mountains above 8,000m such as Mt. Cho-Oyu, Mt. Everest, Mt Lhotse and Mt. Makalu, which can clearly be seen from Gokyo Ri (5350m) just above Gokyo Lake. Less frequented than the Everest Base Camp route, this trek provides some adventurous high altitude trekking and a visit to the second largest glacier in the world (Ngozumpa Glacier).

This trek starts from a thirty-minute flight from Kathmandu to Lukla. Following that, the adventure really begins. The interaction among the Sherpa community adds beauty to this trek. Along with this trek we will pass Buddhist monasteries with views of Everest and other world-famous towering snow-peaked mountains. We will have an acclimatization day in the village of Namche Bazar before ascending further. After trekking to Gokyo Ri (5350m), we return back to Namche and Lukla for our journey back to Kathmandu.

One of the memorable features of this trek is the view of the tremendous ice ridge between the Mt. Choyou and Mt. Gyanchungm, located in Khumbu region. This trek really offers a great opportunity to witness amazing and unforgettable nature views.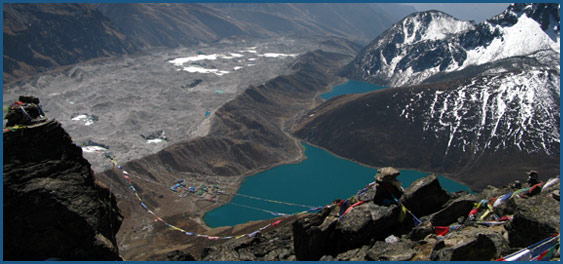 Trip Itinerary
Day 01 Arrival  in Kathmandu (1,300m)
Heartily welcome to country of Himalaya. One of Vista Trek`s team member will pick  you at the Tribhuvan intl. airport with the garland  and assists you to transfegr in your hotel in Kathmandu. After checking at the hotel and refreshment, you will be welcomed at our office. Brief discussion about trekking, introduction with the guide & porter and payment for the trip. Overnight at Hotel.

Day 02 Fly to Lukla (2,800m) & trek to Phakding (2,650m), 3-4 hours walk
Early morning we fly  to Lukla from Kathmandu.After 30 minutes  scenic flight, arrive in Lukla. Having first breakfast in the mountain,we start our trekking to Phakding village. After the lunch, we look around the village. Overnight at Hotel.

Day 03 Phakding to Namche Bazaar (3,440m), 5-6 hours walk .
After breakfast we will continue our trek following Dudhkoshi river. We cross it  twice to reach Monjo village by small suspension bridge which is also  the entrance gate of the Sagarmatha National Park. After descend walk of about 20 minutes we reach to Jorsalle village, the last village till Namche Bazaar.After Jorsalle village, follow the Dudhkoshi river with gradual walk for half an hour and again crossing the suspension bridge, we walk all the way up to Namche Bazaar for couple hour, which is well known as the capital of Khumbu region.

Day 04 Acclimatization day at Namche Bazaar.
Today is our rest day for the acclimatization. After the breakfast, we make short excursion around Namche Bazaar, visiting Sagarmatha national park head quarter and Everest view hotel for the panoramic view of many white peaks.

Day 05: Namche to Dole (4200m), 5-6 hours walk
After breakfast we start our trek. At the beginning it is pretty comfortable trails with small ups and down up to Kyangzuma village.Afterward we ascend to Mongla village and down to Phortse Thanga. After lunch we continue our walk. A Couple of hours ascending bring us to Dole for the overnight.

Day 06: Trek to Machharmo (4470m), 4-5 hours walk
Today  we will have scenic climb to Machhermo . The trails continue to through the valley high above the river along with nice view of Mt. Cho yu, Mt. Taboche & Cholatse.After 4 hours nice walk, we arrive in Machhermo. After lunch we may do small hike around the hill.

Day 07: Trek to Gokyo (4750m), 3-4 hours walk
After breakfast , we continue our trek to Gokyo.The trail descends to the river bank and goes up terminal moraine of the Ngazumpa glacier. The path is easier after passing second lake and finally arrive in Gokyo Village on the edge of Third and biggest lake of the area.

Day 08: Hike to Gokyo RI (5,330m), and retreat trek to Machhermo, 7-8 hours walk
We wake up early in the morning and hike up to Gokyo Ri for the breathtaking view of Khumbu Himalayan Range. This is the life memorable moment as you we can see more than 40 peaks from the top including Mt. Everest, Mt. Choyu, Mt. Makalu and  and many more Himalayan scenery. After spending some time here for photograph, we stroll back to Gokyo. After breakfast we will trek back to Machhermo for the overnight.

Day 09:  Machhermo to Namche (3440m), 5-6 hrs walk
After breakfast, we start our trek with descend walking all the way to Fortsethanga. We then pleasantly climb  up to the Mongla village for the lunch.Afterward, half an hour descending to Kyangjuma village. From here one and half hour easy walk will bring us in Namche Bazaar.

Day 10: Trek to Lukla (2850M), 7-8 hours walk
Today is  our final day of walking. After breakfast we start our trek with descend path to Dudhkoshi River. Afterwards the trips goes ups and down all the way to Lukla for the overnight. In the evening, you can celebrate your last dinner with your crew member.

Day 11: Fly back to Kathmandu (1,300m)
Today early morning flight back to Kathmandu and transfer to hotel. After completing the adventure,  you can relax and rest at your hotel. In the evening, we welcome you to our office for  your feed back of the trip. Afterward we will have fare well dinner together. Overnight at hotel.

Day 12: Departure from Nepal for your onward destination.
This is your last day in Nepal. You can do shopping or buy some souvenirs for your family, friends or relatives until your departure to airport.  We will  transferred to the International Airport for your departure  your onward destination.