On our trek we start in the lower Langtang Valley, trekking through its forests and among the villages and farmlands of its people, many of who are of Tibetan origin. Once an important trading route with Tibet, this influence is reflected in the character of the villages and peoples. During part of the trek you will be walking through National Park, and though wildlife is never easy to spot in a forest setting, there are chances of seeing some interesting animals and birds. Among those found in the park are monkeys, musk deer, pika and the national bird of Nepal, the colourful Danphe.

From Langtang village, the track continues to Kyangjin Gompa (3,740 m). This is the site of the Yala Cheese Factory. There is a STOL airstrip at Chhaldang, a short distance east of Kyangjin. Visiting to the Yala Cheese Factory (4.633 m) and the small lakes beyond Yala are worthwhile. Yala can be reached within half a day from Kyangjin Gompa From Kyangjin Gompa, a continuation to the pastures of Langsisa (4.084 m) provides good views of numerous glaciers. There are some huts in Langsisa that can be reached within one day's walk from Kyangjin Gompa.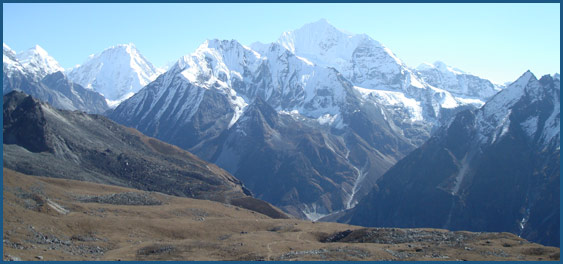 Trip Itinerary
Day 01 Arrival  in Kathmandu (1,300m)
Heartily welcome to country of Himalaya. One of Vista Trek`s team member will pick  you at the Tribhuvan intl. airport with the garland  and assists you to transfegr in your hotel in Kathmandu. After checking at the hotel and refreshment, you will be welcomed at our office. Brief discussion about trekking, introduction with the guide & porter and payment for the trip. Overnight at Hotel.

Day 02: Kathmandu to Syabrubesi (1,420m), 8-9 hours drive by Local Bus
Early in the morning, we drive from Kathmandu by local bus. Our bus goes through the beautiful countryside, with terrace field, green valley as well as  magnificent views of Mt.Ganesh Himal, Manaslu, Langtang and more. Overnight at a local guest house at Syabrubesi.

Day 03: Syabrubesi to Lama Hotel (2340m/), 5-6 hours walk
After breakfast we  start our trek. As it is our first day, we go slowly, taking the rest, enjoying the scenery. We will pass by Domen and Pairothapla before to reach Bamboo for the lunch. Green forest with the birds, bee hives are interesting.After lunch, we climb steeply up to Rimche and to Lamahotel for the overnight.

Day 04: Lama Hotel to Langtang village (3,480m), 5-6 hrs walks
After breakfast we start our trek with the pleasant walk through the rhododendron and pine forest up to Ghora Tabela. On the way,we have great view of Mt. Langtang. After taking lunch in Ghoratabela, we continue our trek toa pleasant walk and follow the trail through rhododendron and pine forest for around three hours to reach Langtang Village for the overnight.

Day 05: Langtang village to Kyanjing Gompa (3,870m), 4hours walk
Today we have short and pleasant walk . The trail goes slowly up all the way to Kyanjin Gompa. On the way, Buddhist prayer wall and prayer wheel make our trail special. The view of Mt. Gyanchenpo, Langtang and other peaks are also beautiful. After the lunch in Kyanjin Gompa, we visit the monastery, and explore the surrounding. Overnight at guest house.

Day 06: Exploring Day  at Kyanjin Gompa
Today we have exploring day. Depending on  your interest or fitness, you can either climb  to Chrkyo Ri(4990m) or to hike in Kyanjin Ri. The valley from the top of Kyanjin Ri or Cherkyo Ri is awesome. You will have proud and happy moment as we are surrounded by the numerous peak including Langtang & Gyanchenpo.

Day 07: Kyanjin Gumpa to Lama Hotel (2340m), 6-7 hours walk
Today after breakfast we start our trek. It is long and all the way down to Lamahotel for the overnight.

Day 08: Lama Hotel to Syabrubesi (1,420m), 4 hours walk
This is our last day of trekkiing. Today we start our trek with descend walk to Pairothapla. After Pairothapla the trail goes slow up and further down to Syabrubesi for the overnight.

Day 09: Drive back to Kathmandu. 8 hours driving.
Today we take our breakfast early in the morning and take bus to Kathmandu. It is same way drive back with nice view of  green valley, terrace field and picturesque mountains. Overnight at Hotel.

Day 10 Transfer to Airport for your onward destination.
This is your last day in Nepal. You can do shopping or buy some souvenirs for your family, friends or relatives until your departure to airport.  We will  transferred to the International Airport for your departure  your onward destination.