The Annapurna region lies in the middle north of Nepal and spreads over the Kali Gandaki River to the west, the Marshyangdi and Dodh Khola valleys to the east, the Pokhara valley to the south, and the Himalaya foothills that run along the Nepal-Tibetan border to the north. The Annapurna Conservation Area was established in 1986 under the National Trust of Natural conservation. The slogan for this project was 'Conservation is not a separation of people from nature.' The program began by educating the local lodge owners in hygiene and sanitation matters, fuel diversity by moving away from using local forest timber and in local cultural maintenance. ACAP, a non-governmental organization, has directly supported and encouraged the development of the local infrastructure and income generating activities in environmentally sensitive ways, solar power, bio-gas cooking and bio-degrading toilet systems. All this has resulted in the area providing some of the best trekking services to be found in Nepal. This is the most popular trekking region ever in the world, which attracts more than 75% of the whole trekkers in Nepal. It's also the tamest area with excellent lodges lining in the main routes. Finding Nepal beneath the flood of trekkers can be difficult but her scenery and culture are top-notch; and you can avoid the peak-season crush and still get fine weather and views.

Besishahar, a naturally rewarding area from where the trail heads to Bahundanda is the starting point of this 3 weeks ideal trek. Since it is opened for foreign trekkers in 1977,being the most spectacular trekking route of Annapurna region. This trek leads you to the fine villages inhabited by a wide diversity of people from different ethnic groups towards the beautiful views of white Himalayas. The scenery is equally breathtaking due to the continuation of the main Himalayan range to the high and dry Tibetan plateau. The trails, then, follows the way crossing the Marsyangdi river up to the fine stone villages Jagat, Chame, Manang and to the Thorang Phedi (4450m.), where we have to stay overnight before crossing the worlds' highest pass Thorang-La (5416m.).

Muktinath, the holy temple of Hindus which offers the astonishing view of the snow –capped mountains from the top. The eye appealing view of this becomes one's out of mind to have genuine experience of peace and tranquility. The other major attractions of this trek is Tato Pani (hot spring),where you can easily get release from your muscle pains after a long walk and Poon Hill, which is known as the worlds' best view point from where you can explore the 220 degree panoramic view of Annapurna and Dhaulagiri range.

You will get the true experience of ethnic and cultural diversity of the people in this region after taking this 3 weeks 118 miles Annapurna circuit. The wide variety of flora and fauna, amazing views of the mountains, fine climate and the friendly behavior of the people will make your trek never ending from the corner of your memory. It is also required to know that sound health is necessary since this trek has been set on the basis of slow hike pace to get full acclimatization with a realistic view.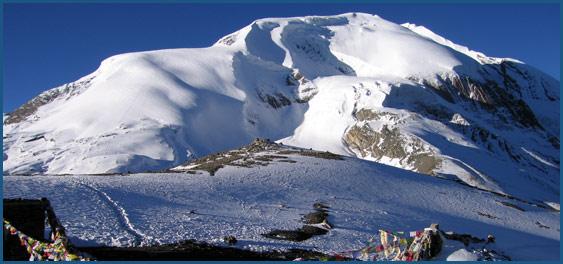 Trip Itinerary
Day 01 Arrival at Kathmandu airport and transfer to hotel.
Heartily welcome to country of Himalaya. One of Vista Trek`s team member will pick  you at the Tribhuvan intl. airport with the garland  and assists you to transfegr in your hotel in Kathmandu. After checking at the hotel and refreshment, you will be welcomed at our office. Brief discussion about trekking, introduction with the guide & porter and payment for the trip. Overnight at Hotel.

Day 02 Drive from Kathmandu to Besisahar. 5/6 hours drive . Overnight at guest h ouse.
Today early morning we start our  trip with bus drive to Besisahar by Local bus. You can stop on  the way for the breakfast and lunch. In a clear day, one can enjoy beautiful scenery of Himalaya alongwith nice landscape of mountains , river and valleys. After arriving in Besisahar, enjoy your day walking around.  Overnight at Guest house.

Day 03 Besisahar to Chamje by Jeep/Bus and Trek to Tal Village. Walking 3 hours Overnight at guest house.
After breakfast, we start our trip with Jeep drive to Chamje. It will be off road drive on the bank of Marsyangdi River. Beautiful Ghermu waterfall and Chamje water fall is the highlight of the day. From Chamje, we start our actual trek  crossing Marsyangdi River. Couple of  hours hike will bring us to Tal village for overnight.

Day 04 Tal to Timang Danda. Walking 5/6 hours. Overnight at guest house.
Today, we trek through beautiful village like Dharapani, Bagarchhap & Danaque. The trail goes gradually up until Danaque and from there , it will be up hill walk all the way to Timang danda for the overnight. In a clear day, we can enjoy the view of Mt. Manaslu .

Day 05 Timang danda   to Chame (2725 mt.). Walking 4 hours. Overnight at guest house.
Today is quite easy day of our trekking. After breakfast  we start the trek . The trail is almost flat all the way to Chame. It goes throuhg nice village like Thanchok and also offer the view of Annapurna 2nd on the way.

Day 06 Chame to Pisang (3190 mt.). Walking 5 ½ hours. Overnight at guest house.
Today, we start our trek crossing suspension bridge over Marsyangdi river. The trails goes through pine forest with few ups and down to arrive in Bhartang village. The trail continue to gradual path to cross the suspension bridge again over Marsyangdi river and short steep climbing through pine forest bring us at the top of the ridge Dhukur Pokhari for the lunch.After  lunch, we continue our trek with the view of Pisang peak and Mt. Chulu on the way before to reach Pisang Village. In the evening, we visit upper Pisang  village which is famous for Tibetan style houses, monastery along with panoramic view of the Annapurna range and  valley.

Day 07 Pisang to Manang (3500 mt.). Walking 5 hours. Overnight at guest house.
Today we  start our trek with  pleasant walk through pine forest. The trail goes gently up for half an hour to the top of the ridge. From here, we can see beautiful Manang Valley, offering view of   Humde village with  short air-strip, as well as  towering peaks of Gangapurna, Annapurna II & III, Tilicho and more. From here it is easy walk almost flat to Humde village. Further an hour walk bring us at traditionally built village Braga. From Braga, it is less than hour walk to Manang village for the overnight.

Day 08 Acclimatization rest in Manang and exploring. Overnight at guest house.
Today is our rest day in Manang. After breakfast, we explore around. We make short hike to Gangapunra lake. Near by hill offer spectacular view of Gangapurna, Annapurna 3, Annapurna 2, Tilicho Peak , Chulu peak along with beautiful valley made by Marsyangdi river. After lunch, relaxing time at Manang. One can even watch the movie.

Day 09 Manang to Yak Kharka (4090 mt.). Walking 5 hours. Overnight at guest house.
Today we start our trek with slow climb to Tenki Manang.Further an hour walk bring us at Gunsang for tea break. From here we have wide panoramic view  of Annapurna starting from Annapurna 2 to Tilicho peak. The trail goes slowly up through the juniper bushes with few huts on the way before we arrive in Yak Kharka for the overnight.

Day 10 Yak kharka to Throang Phedi (4450 mt.) .Walking 4 hours. Overnight at guest house.
Today we start our trek with slow climb for about an hour to reach Ledar Village. The pace is slow as we are walking above 4 thousand meter. The landscape and mountains view are amazing through out the day. An hour descend walk bring us in wooden bridge over on Jorsang Khola. Afterward the trail goes steeply up to arrive small tea shop for the break anf further an hour walk through narrow path will bring us in Thorang Phedi for the overnight.

Day 11 Thorang Phedi to Muktinath via Thorang-la pass (5416 mt.). Walking 8 ½ hours. Overnight at guest house.
Today is our toughest part of the trip. It is very long and hard day. We take our breakfast very early, and start our trek with pack lunch. The trail goes steeply up to High Camp. We walk slowly having rest on the way. 3~4 hours tough walk will finally bring us at the top of Thorang pass which is the highest trekking pass in the world. We take few minutes here, taking photograph,enjoy the scenery of Annapurna & Dhaulagiri. From here we go all the way down to Muktinath for overnight.

Day 12 Muktinath to Marpha via Kagbeni & Jomsom.(2630 mt.). Walking 7½ hours. Overnight at guest house.
oday we visit the Muktinath temple early in the morning and continue our trek. It is easy and enjoyable downhill to Kagbeni Village where we can visit old monasteries.  From here onward, the trail follows windy path on the bank of Kaligandaki river to Jomsom and to Marpha for  over night stay.

Day 13 Marpha to Ghasa. ( 1600 mt. ) Walking  7 hours. Overnight at guest house.
Today is also a long day . Hoever the trail is easy which decend gradually until Kalapani Village and from there it is downhill to Ghasa for Overnight. On the way, we can enjoy beautiful view of Annapurna 1st and nice valley made by Kaligandaki River.

Day 14 Ghasa to Tatopani (1189 mt.). Walking 4 hours  Overnight at guest house. Enjoy Hot spring.
Today we have easy and short trek to Tatopani. On the way enjoy beautiful water fall and also walk through Dana valley which is the deepest valley(Gorge) in the world made by two giants peak Annapurna 1 (8091m) & Dhaulagiri (8167m). After many days exusting trek, you can enjoy the hot bath in natural hot spring.

Day 15 Tatopani to Sikha (1935mt). Trekking 5 hours. Overnight at guest house.
After breakfast, we start our trek with slow descending . We then cross the suspension bridge over Kaligandaki river and divert to Ghorepani  crossing again the suspension bridge over Ghara khola. The trail goes steeply up for about an hour to Ghar Khola and further up for couple of hours to bring us in Sikha for Overnight stay. From this village, Nilgiri and Dhaulagiri are beautiful.

Day 16 Sikha to Ghorepani (2835 mt.). Walking 4½ hours. Overnight at guest house.
Today after breakfast  we start our trek. The trail goes gradually up and arrive in Chitre village. After that, it will be pleasant uphill walk through rhododendron village to arrive in Ghorepani village for overnight. If the weather is clear, you can visit Poonhill for Sunset view.

Day 17 Early morning hike to Poon Hill (3210 mt.) to see 220 degree panoramic view of Annapurna and Dhaulagiri range and sunrise, trek to Tadapani (2520 mt.).Walking 5 ½ hours. Overnight at guest house.
Today is a special day of our trip. Early morning hike to Poonhill for about an hour. Poonhill is the place which offer wide range of Himalayan Panorama of Manaslu, Annapurna & Dhaulagiri. The sunrise over Himalaya is really great. After having great time at Poonhill, return to Ghorepani for breakfast and then continue our trek to Tadapani for overnight.

Day 18 Tadapani to Syane via  Ghandruk (1920mt.). Walking 5 ½ hours. Drive to Nayapul and further drive to Pokhara. Overnight at Hotel.
Today we have short trekking to Ghardruk.  It is easy and pleasant walking through forested path, almost all the way down.  3 hours walk with occasional view of Annapurna bring us in Ghandruk for for the lunch. Ghandruk is one of biggest & modern Gurung village offer great view of Annapurna south, Hiunchuli & Fishtail. After lunch, we walk down about an hour and Jeep drive to Nayapul. From Nayapul we will have scenic drive to Pokhara for the overnight.

Day 19 Drive back to Kathmandu from Pokhara. Driving 6 hours by tourist bus. Overnight at hotel.
Early morning we drive back to Kathmandu by tourist bus. After arriving in Kathmandu, guide will transfer to Hotel. Until evening, you can relax and explore the Thamel. Overnight at Hotel.

Day 20 Transfer to airport for departure from Nepal.
This is your last day in Nepal. You can do shopping or buy some souvenirs for your family, friends or relatives until your departure to airport.  We will  transferred to the International Airport for your departure  your onward destination.