Village Tourism in Nepal >> Chepang Village Tour
The newly developed Chitwan chepang Hills Trails is unique because of one of the most ethnic cultures of Nepal- Chepang Culture. Chepangs believed to be influenced by Tamangs, speak their own distinct language, leading nomadic life and their primary lifestyle, hunting, foraging for wild roots and fishing and traditional farming near jungles. A Praja Pande( Faith Healer) might be an interesting figure for cultural tourists to be introduced to. They inhabit the remote and sparse contours of Makwanpur, Chitwan, Gorkha and Dhading districts. Other ethnic groups found in this region largely comprise of Tharu, Musahar, Satahar, Danuwar, Tamang, Kumal Gurung and Magar. The Chepang Hills Trails offers spectacular views of the mountains and magnificent sunrise and sunset views. The views includes a wide range of Himalayan peaks such as Rolwaling, Gaurishankar, Lagtang, Manaslu, Himalchuli, Annapurna, Dhaulagiri and Chitwan National Park in the Terai. The Chepang Hills Trails also offers a rare combination of cultural and sightseeing experience. A stay in the beautiful homes of the villagers as guests and sharing their meals is a journey of discovery in itself. The unique culture in this area, bird watching and other natural attractions add to the experience.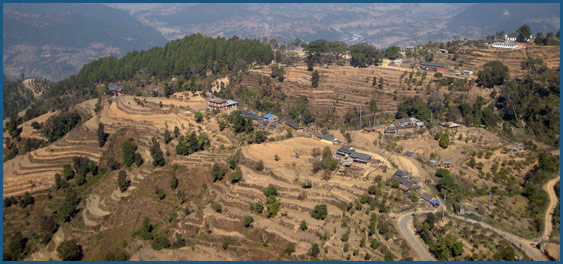 Trip Itinerary
Day 01- Kathmandu- Hugdi Bazaar- Hattibang
Drive to Hugdi, Trek from Hugdi and overnight at Hattibang. Observe cultural show.

Day 02- Hattibang – Jautsh- Changa-Dinglang- Jyandala
Trek to Jautes- Changa- Dinglang and overnight at Jyandala, a pure Chepang village.

Day 03- Jyandala- Siraichuli- Chisapanitar- Godi
Trek to Siraichuli for mountain views, sunrise or sunset. Trek to Chisapanitar for Bird watching. Trek to Gadi to Observe historical fort at Gadi.

Day -4 Gadi- shaktikhor
Trek down from GAdi to Shaktikhor. Cultural experience at Shaktikhor, observe Chepang Museum. Trek to Sinti waterfall and Sinti Cave village walk, cultural show by Chepangs, Magars.

Day 05- Drive from Shaktikhor to either Sauraha or to Kathmandu.