Trekking in Nepal >> Dhaulagiri Trekking
Everyone is familiar with the name Dhaulagiri which is in the western part of Nepal, probably the best spot for trekking in Nepal. The simple reason behind it is that it consists more than fifteen 7000-meter magnificent peaks with land of dramatic contrast.

The trek offers you a ample chance to explore the wild. Now this thrilling region has been shown its long kept secrets, since reopened of the places like the Gandaki Gorge, the deepest Gorge in the world!! Dhaulagiri means "white mountain" though many mountains over the world have names, which translate, to White Mountain, this is without doubt the most astonishing one.

From the near tropical Pokhara valley, steep slopes climb to snowcapped Himalayan giants. Dhaulagiri, the seventh tallest peak in the world, towers high above the well-trekked Muktinath pilgrim trail up the Kali Gandaki valley. The vast massif screens the hidden land of Dolpo to its northwest.

The trek to Dhaulagiri offers unparalleled and impressing scenery, besides it includes as you might expect in such a remote area, some very interesting indigenous people. Following the rivers upstream, ferns and forests of oak and other deciduous trees and juniper are interesting. Mountainsides of rhododendron blaze with color in the spring, and other flowers are abundant on the trail. We can found tiny alpine flowers even on High Mountain passes above the tree dotting the wind swept ground.

The popular high mountain passes includes French Pass (5360m) and Dhampus Pass (5250m/ 17,220ft). These passes offers great experience trekkers with excellent physical condition.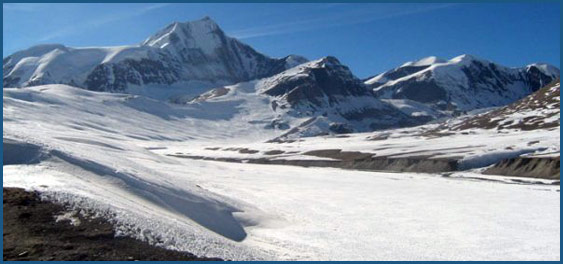 Trip Itinerary
Day 01 Drive from Kathmandu to Beni by bus (9 hours driving).
Day 02 Trek to Babiyachaour.
Day 03 Trek to Darbang.
Day 04 Trek to Takum.
Day 05 Trek to Muri.
Day 06 Trek to Boghara.
Day 07 Trek to Doban.
Day 08 Trek to American Base Camp.
Day 09 Acclimatization day at American Base Camp.
Day 10 Trek to French Base Camp
Day 11 Trek to Dhaulagiri Base Camp.
Day 12 Trek to Hidden Valley (5000m.) crossing French Pass (5360m.).
Day 13 Rest day at Hidden Valley.
Day 14 Trek to Yak Kharka crossing the Dhampus Pass (5200m).
Day 15 Trek down to Marpha.
Day 16 Trek to Jomsom.
Day 17 Fly from Jomsom to Pokhara.Overnight at hotel.