The Annapurna base camp trek gives one the true feeling of trekking. It is indeed fantastic and adventurous for those people who love enjoying the natural flora and fauna with gorgeous snow-capped peaks. This trek has become a classic, where one can experience unparalleled mountain scenery and enormous glaciers, and gain insight into true Nepalese life and culture. This trek starts and ends in Pokhara being a part of Annapurna Circuit or Jomsom / Muktinath trek. The Annapurna base camp is separated from Tatopani through Ghorepani and Tadapani by joining the main Sanctuary trail at Chhomrong. The trek involves several ascents and descents but can vary in difficulty, as there are several alternative routes to the Sanctuary, all meeting at Chhomrong. The Annapurna base camp follows the Modi River and passes through welcoming forests of bamboo and rhododendron. After reaching Hinko cave, we can notice that the vegetation has thinned and the gorge has narrowed to only a few hundred meters wide. Steep snow capped ridges tower from Himchuli on the left and Machhapuchhre on the right as one enters the Sanctuary. Passing through the gate and entering the sanctuary, we will witness this huge natural amphitheatre enclosed by walls of snow-capped peaks. This trek will ultimately end in Pokhara.


Trip Itinerary
Day 01 Arrival  in Kathmandu (1,300m)
Heartily welcome to country of Himalaya. One of Vista Trek`s team member will pick  you at the Tribhuvan intl. airport with the garland  and assists you to transfegr in your hotel in Kathmandu. After checking at the hotel and refreshment, you will be welcomed at our office. Brief discussion about trekking, introduction with the guide & porter and payment for the trip. Overnight at Hotel.

Day 02: Drive from Kathmandu to Pokhara (823m), 6 hours drive.
Today early morning drive to Pokhara by tourist bus. The bus goes through beautiful countryside and stop twice on the way for the breakfast and lunch.After arriving in Pokhara, you can freely explore the Lakeside area and it`s surrounding. Overnight at Hotel.

Day 03: Drive to Nayapul and trek to Tikhedhunga (1,577m), 1 hour drive and 4 hours walk
Today  wake up around 7 o`clock and have breakfast at the hotel. Then star our trip with an hour drive to Nayapul. Nayapul is the starting point of our trek.Walking along Modi river, we soon reach Birethanti and then head up the main trail to Tikhedhunga. On the way, we cross beautiful villages, Sudame, Ramghai, Hile and then Tikhedhunga for the overnight.

Day 04: Tikhedhunga to Ghorepani (2,850m). 6~7 hours walk
Today is one of the tough day of our trip.After breakfast we start our trek with  steeply ascends  to the Ulleri all the way through stone steps. On the way, Annapurna South(7219m), Hiunchuli(6441m). Beautiful villages with the amazing landscape and the mountain view are  the attraction today. It is a pleasant walking through rhododendron and oak forests. We take our lunch at Banthanti where Mt. Fishtail(6993m) can be seen and then continue our trek. After walking long up hill, finally we arrive in Ghorepani for the overnight

Day 05: Hike to Poonhill and trek to Tadapani (2540m), 6-7 hours walk
Today is a special day of our trip. Early morning hike to Poonhill for about an hour. Poonhill is the place which offer wide range of Himalayan Panorama of Manaslu, Annapurna & Dhaulagiri. The sunrise over Himalaya is really great. After having great time Poonhill, return to Ghorepani for breakfast and then continue our trek to Tadapani for overnight.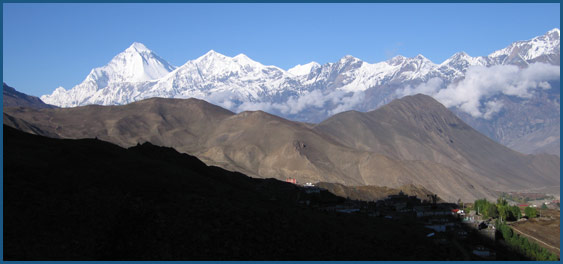 Day 06: Tadapani to Sinuwa (2,210m/), 6 hours walk
After breakfast star our trek. At the first we drop down all the way to Kimrung khola which takes almost 2 hours.After crossing the suspension bridge the trail goes up to the Gurjung village and to Chhomrong village for the lunch.Chhomrong is one of the biggest Gurung settlement from where Annapurna South, Hiunchuli and Fishtail can be seen very close. From Chhomrong, the trail goes down and goes up for about one and half hour to small settlement Sinuwa for Overnight.

Day 07: Sinuwa to Deurali (3200m), 6 hours walk
After breakfast we start our trek. The trail is fairly easy up to Dovan (2600m) following gradual up and down. We continue our trek through the green forest and arrive in Himalayan Hotel, a small settlement for the lunch. We then further go up for about an hour to Deurali for the Overnight.

Day 08: Deurali to ABC (4230m)), 5 hours walk
After breakfast we start our trek. Walking along the Modi river, Mt. Fishtail, Annapurna 3, Gangapurna & Glacierdom come closer and closer. We have lunch in Machhapuchhre Base Camp(MBC) with the close view Mt. Fishtail(Machhapuchhare). After lunch the trail follows uphill for couple of hours passing a few roofless shepherds huts where the trail might be covered by the snow. After final push, arrive in ABC where we have superb view of Annapurna and it`s surrounding all around. Overnight at guest house.

Day 09: Annapurna Base Camp to Bamboo (2,300m), 5- hours walk
Today we wake up early morning to explore sunrise view over Annapurna. After breakfast we retrace our journey. It is all the down to Bamboo for overnight.

Day 10: Bamboo~ to Jhinu Danda (1,780m), 5 hours walk
After breakfast start our trek. The trail leads to the Khuldi Ghar and retract to Sinuwa. After Sinuwa the trail goes donwn to Chhomrong khola and up to Chhomrong Village. Further 40 minutes descending  bring us in Jhinudanda for the overnight.  After lunch, you may  visit natural hot spring down to the riverbank and enjoy the hot bath.

Day 11: Jhinudanda to Nayapul (1030), 6/7 hours walk and drive back to Pokhara.Overnight at Hotel.
Today we have nice and enjoyable walk to Nayapul. It is long way but we descend through New Bridge, Kyume and Syauli Bazaar village. On the way, towering Mt. Fishtail can be seen. From Nayapul, it will be about an hour drive to Pokhara for Overnight stay.

Day 12: Drive from Pokhara to Kathmandu (1,300m), 6hours drive.
Early morning we drive back to Kathmandu by tourist bus. After arriving in Kathmandu, guide will transfer to Hotel. Until evening, you can relax and explore the Thamel. Overnight at Hotel.

Day 13 Transfer to Airport for your onward destination.
This is your last day in Nepal. You can do shopping or buy some souvenirs for your family, friends or relatives until your departure to airport.  We will  transferred to the International Airport for your departure  your onward destination.