In this trek we follow a rugged trail with dramatic views; to the west Himal Chuli (7893 mt.) Manaslu (8156 mt.) and Ganesh Himal (7406 mt). On a clear day, even the Annapurna range can be seen rising up behind and to the north across the valley is Langtang Lirung. We pass a few huts in the high picture of Lauribinayak La, cross a small ridge and have our first views of the holy lakes. There are about a dozen lakes in the Gosainkunda Basin. The main three are Saraswatikunda, Bhairabkunda, and Gosainkunda. According to the Hindu mythology, when the God churned the primordial ocean to produce elixir of eternal life, the poison was also produced simultaneously. To save the universe from this poison, Lord Shiva drank it scaring his throat blue in the process. To cool down his burning throat, Lord Shiva struck his trident into the rock creating three springs which ultimately resulted in the formation of beautiful lakes.

Finally, Lord Shiva drank the water of the lakes and got rid of the pain. This trek provides excellent views of snow-capped mountains, picturesque valley and glimpse of exotic 108 holy lakes with diverse ethnic culture. The three week tour covers Langtang, Gosaikunda and Helambu valley trek.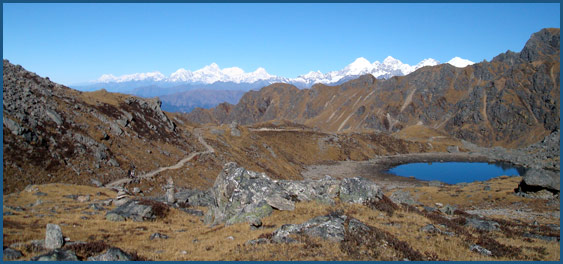 Trip Itinerary
Day 01 Arrival  in Kathmandu (1,300m)
Heartily welcome to country of Himalaya. One of Vista Trek`s team member will pick  you at the Tribhuvan intl. airport with the garland  and assists you to transfegr in your hotel in Kathmandu. After checking at the hotel and refreshment, you will be welcomed at our office. Brief discussion about trekking, introduction with the guide & porter and payment for the trip. Overnight at Hotel.

Day 02: Kathmandu to Dhunche(1,920m), 7-8 hours drive by Local Bus
Early in the morning, we drive from Kathmandu by local bus. Our bus goes through the beautiful countryside, with terrace field, green valley as well as  magnificent views of Mt.Ganesh Himal, Manaslu, Langtang and more. Overnight at a local guest house in Dhunche.

Day 03 Dhunche to Sing Gompa (3220 mt.). Walking 5 hours. Overnight at guest house.
Today after breakfast we start our trek. At the beginning, the trail goes slow up. After crossing the Trisuli River coming from the Gosaikunda Lake, the trail steeply up.It is long and hard way to Chandanbari however the walk is pleasant as we walk through green pine forest. Many species of birds, wild animal as well as Mt. Ganesh Himal is beautiful on the way.

Day 04 Sing Gompa to Lauribinayek (4380 mt.). Walking 3 hours. Overnight at guest house.
Today we start our trek with pleasant walk through the pine forest to Cholang paty. From here, trail leads uphill to Lauribinayek for the overnight. Our stay in Lauribinayek is really memorable as it offer wide range of panorama starting from Annapurna to Langtang.

Day 05 Trek to Gosaikunda and back to Lauribinayek. Overnight at guest house.
Today we enjoy  morning view of Himalayas  before breakfast. We start our trek with uphill walk about an hour and slow ups and down for couple of hours to reach holy lake Gosaikunda. after exploring the surrounding, we will traced back to Lauribinayek for the overnight.

Day 06 Lauribinayek to Dhunche, overnight at hotel.
Today  we start our trek, descending to Cholang party and again pleasant walk to Sing gompa. From here it is easier to go all the down to Dhunche for overnight.

Day 07 Drive back from Dhunche to Kathmandu, overnight at hotel .
Today we take our breakfast early in the morning and take bus to Kathmandu. It is same way drive back with nice view of  green valley, terrace field and picturesque mountains. Overnight at Hotel.

Day 08 Transfer to airport for departure from Nepal.