Manaslu Trekking
Manaslu trekking offers a unique opportunity to experience the Manaslu and Ganesh Himal areas lying in the north of Nepal neighboring to the Tibetan border and the eastern Annapurna region. This area is relatively unknown to trekkers due to its relatively recent discovery in the 1950's when Tilman first visited. This is not to say that it is not famous; Manaslu is the seventh highest mountain in the world. Not only does it have an important place among the world's highest peaks, but also has a unique environment and exceptionally rich bio-diversity, which has made this region a fascinating destination. This area is full of unparalleled features such as enormous cultural diversity, natural scenery along with the majestic Himalayan ranges, a combination of fascinating flora and fauna and amazingly romantic high altitude glacier lakes. In spite of its recent opening in 1991, it has now become a pillar of Nepal's economic infrastructure .

Manaslu and Ganesh Himal appear from a distant horizon to be shimmering mountains hanging, attaching only to the earth by thin silvers of mist. Terraces are supported by the foothills and lower valleys and water buffalo plough and provide milk and meat, reflecting the natural life of the villagers. Traditional homes found in this area are full of cultural handicrafts and paintings done in the traditional manner. During the blossoming season, bananas are abundant and cicadas gather in the trees. The trek to Manaslu through the Budhi Gandaki gorge is continuous ascents and descents, from which may arise a few problems for the inexperienced / new trekkers. Being an adventurous trekker however, you can meet thousands of other brave hearts irrespective of cultural difference.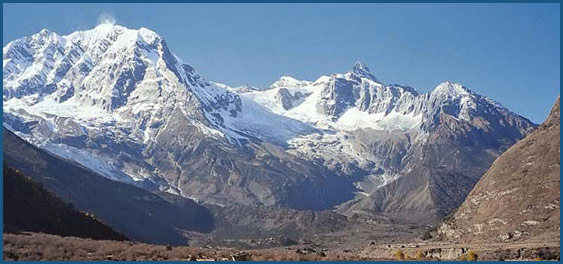 Trip Itinerary
Day 01 Arrival  in Kathmandu (1,300m)
Heartily welcome to country of Himalaya. One of Vista Trek`s team member will pick  you at the Tribhuvan intl. airport with the garland  and assists you to transfegr in your hotel in Kathmandu. After checking at the hotel and refreshment, you will be welcomed at our office. Brief discussion about trekking, introduction with the guide & porter and payment for the trip. Overnight at Hotel.

Day 02: Preparation of the trek.
Today, after breakfast we make our preparation of the trek, buying the necessary gears or equipments. Depending on your interest, half day sightseeing tour of Kathmandu also possible to organize. Overnight at Hotel.

Day 03 : Kathmandu to Arughat (570m) by bus and further drive to Sotikhola by Jeep.  8-9 hrs drive. Overnight at  guest house.
This morning we leave Kathmandu for our long trek to Manaslu. Early in the morning we drive to Arughat  by local bus through the beautiful Nepalese countryside. From Arughat we drive couple of hours further to Sotikhola for overnight. Sotokhola is a small village , explore it's surrounding area and overnight at the Local guest house.

Day 04: Sotikhola to Machhakhola (970m), 5 - 6 hours walking
Today,after breakfast we start our trek. The valley is narrow at the beginning. We pass some small villages and descend s to sandy riverbeds. At the end we  ascend to Machhakhola for  our overnight stay  .

Day 05: Machhakhola to Jagat (1,370m), 5 - 6 hours walking
Today we start our trek with easy walking to Khorlabesi first and then to Tatopani, a place with natural hot spring.From here we cross the Budi Gandaki River through suspension bridge and continue our walking. It  is slow ascending all the way to Jagat village for the overnight.

Day 06: Jagat to Deng (1,920m), 6 - 7 hours walking
Today, we continue our trek along the Budigandaki river through flat way to Philim village and to Eklebhatti village where we take our lunch. From Ekle Bhatti we cross the river again and enter to dramatic section of the gorge high above the river. The trail goes up to west side of the valley and offers a pleasant walk through bamboo forests to the village of Deng for the overnight.

Day 07: Deng to Namrung(2250) 6-7hours walking
Today, we enter the area influenced by Buddhism.Walking few ups and downs through forests, we arrive at Ghap. On the way well preserves paintings and elegant mani wall is interesting. Froom here valley becomes steeper and we go long climb through bamboo and rhododendron forest to the village of Namrung for the overnight.

Day 08: Namrung to Lho (3,180m), 3-4 hours walking
Today we have short walk. Today we go through typical Tibetan village, which consists Tibetan style entrance gates, mani walls and Buddhist gompas.We also have view of Manaslu and Gorakh himal before we arrive in Lho for the overnight.

Day 09: Lho to  Sama Gaun (3,450m), 3-4 hours walking
Today, we start our trek with view of Peak 29. It is steep up way through the forest for couple  of hours to bring us Shyala. From here we have superb view of Manaslu and Himalchuli. From here, easy walking through the forest bring us in Sama Gaun for the overnight.

Day 10: Acclimatization day at Sama Gaun
Today is the Acclimatization day in Sama Gaun. If you feel good, you can hike to Manaslu Base Camp through Birendra lake or make a short hike Sama monastery and relax at the village.

Day 11: Sama Gaun to Samdo (3,780m), 3-4 hours walking
Today we have pleasant walk to Samdo. The trail  goes gradual up following Kali Gandaki River. Passing several mani walls, we also havemagnifiscient view of Mt. Manaslu and other major peaks through out the day. We  cross the Kaligandaki River and clime for 15~20 minutes before to reach Samdo for overnight.

Day 12: Samdo to Dharmasala (4,460m), 3 - 4 hours walking
Today we start our trek passing fields and old mani walls. After we descend to River and cross the wooden bridge to arrive Larkya bazaar.Larkya bazaar is used to be very famous bazaar but now there is nothing remain.From here we go through another mani walls marks, where the trails start to climb with view of  huge Larkya Glaicer ahead. A final push over with steep climbing closed the Larkya Glacier and to reach Dharmasala for the overnight.

Day 13: Dharmasala to Cross the Larkya La (5,135m) and trek to Bimtang (3,630m), 7 - 8 hours walking
Today we star early in the morning with pack lunch for the day. It is steep up for about 3~4 hours to the Larkya top. From here, we have great panoramic view of Mt. Himlung, Kang guru, Annapurna II and more. From here the trail descend all the way for about 3 ~ hours. Depending on the condition, crampons and ice axe are advisable to have  as the trail might be covered by the snow.Overnight at Bimthang.

Day 14: Bimtang to Tilje (2,240m), 5 - 6 hours walking
Today, we start our trek by crossing the pastures of Bimthang Now the trail drops to a glacial stream at the origin of Dudh Khola. After crossing a wooden bridge, we descend into pine and rhododendron forest.We walk further ups ans down, prayer flags and terrace fields follow the way, bringing us a Large  Gurung village Tilje for the overnight.

Day 15: Tilje to Dharapani (1,430m)  1 hours walking and drive to Besisahar by Jeep.
Today, we start our trek with slow descending to Dharapani. From here we catch the Jeep and drive all the way to Besisahar. It is an adventurous drive on the bank of Marsyagdi river following the beautiful village  Tal, Chamje, Jagat and more. On the way you can enjoy Chamje and Ghermu water fall. Overnight in Besisahar.

Day 16: Drive  back to Kathmandu, 85- hours. Overnight at Hotel.
Today, we have 5-6 hours scenic drive from Besisahar to Kathmandu.Overnight at Hotel.

Day 17: Transfer to airport for your departure from Nepal.
This is your last day in Nepal. You can do shopping or buy some souvenirs for your family, friends or relatives until your departure to airport.  We will  transferred to the International Airport for your departure  your onward destination.