Tour in Nepal >> Kathmandu Valley Tour
Kathmandu is the capital city of Nepal and situated in the heart of the Himalaya mountains and has a rich history. The valley covers an area of 218sq miles and situated as 1350 meter above sea level. This valley Considered by many to be among the most beautiful cities in the world, have three fabled citied of great historic, religious and cultural interest Which is Kathmandu( Kantipur) Patan (Lalitpur) and Bhadgaun (Bhaktapur). Each cities have Durbar Square (Old palaces) with innumerous old palaces, temples and its art and architecture. This is why the valley also called as an open air art gallery.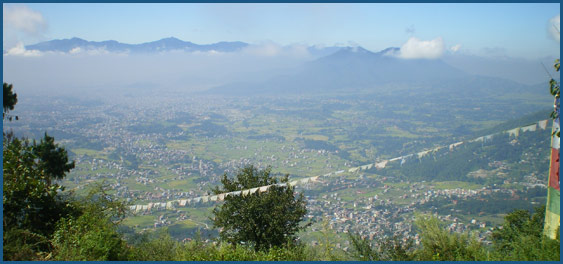 Trip Itinerary
Day 1: Arrival at Airport, Kathmandu and transfer to hotel. Visit our office for detailed information about the tour.Overnight at hotel on B/B basis.

Day 02: Sightseeing tours to Swoyambhunath Stupa, Pashupatinath temple, Bodhnath stupa and Budhanilkantha.
Swayambhunath: The stupa of Swaymbhu is one of Nepal's most distinctive and memorable landmarks. It stands on the summit of a hill called Singum or Gorsinga(cowhorn) or Gopuccha (Cowtail), which rised some 300feet from the valley floor on the western outskirts of Kathmandu. The site has been sacred for at least 1,600 years and is the kingdom's most venerated Buddhist shrine. This is a very religious shrine of Buddhists also worshipped by the Hindus which also known as monkey temple..

Pasupatinath: This is a temple of Lord Shiva – Pasupatinath with two tiered golden roof and four silver doors, situated five kilometer north-east of Kathmandu at the bank of holy river Bagmati. The temple attracts thousands of pilgrims each year and has become well known far beyond the Kathmandu valley. In its vicinity, however, there are a number of other holy shrines which are no less important for the Hindus. The temple is famous for cremation as well. Hindus people believe that one can enter to heaven if the passed body cremated here.

Bauddhanath: This stupa is 6 km to the east of Kathmandu which is traditionally known as Khasty or Khasa or Jarungkhasor in Tibetan. It is said to be built in 5th century AD. This ancient stupa is one of the biggest in the world which stands on an enormous plinth composed of three broad terraces with a complex pattern of interlocking squares and rectangles. The base of the dome is ringed with 108 inset images of Amitabha and encircled by a brick wall containing prayer-wheels in groups of five. The site is exclusively preserved by Tibetans and highland Bhotiya Nepalis who profess a Tibetan style Buddhism.

Budhanilkantha: The Budhanilkantha image lies in a large sunken pool set in an open courtyard, in the village which is named after it. This is near the northern rim of the Valley, under the wooded peak of Shivapuri, about 8km from central Kathmandu. This is a remarkable colossal stone statue of Hindu Lord Vishnu reclining on the bed of snakes is from 5th century AD.

Day 03: Kathmandu-Nagarkot.
Sightseeing tours to Bhaktapur and Changu Narayan temple. Drive to Nagarkot for overnight stay.
Bhaktapur (Bhadgaon) Durbar Square: Bhaktapur, which literally means City of devotees, has been called Bhadgaon or Bhadgaon ( rice-village) in the past. The city lies about 15km east from Katmandu.As soon as you enter the gate of Durbar Square of Bhaktapur the whole complex is impressive, wider, clean and beautiful with beautiful Lion Gate, Golden Gate, palace of 55 windows, Batsala temple, barking Bell, the statue of King Bhupatendra Mall on a stone pillar, public bath and temple of Pasupatinath After strolling down to corner lane you come another big square. On the left you will find the tallest temple of Nyatapola which means 5 tiers representing symbols of 5 basic elements of nature such as water, air, fire, earth and sky. This is a highest pagoda temple of Nepal ever built with architectural perfection and artistic beauty in 1702 AD by the King Bhupatendra Malla. Next to Nyatapola is another giant temple of Bhairavnath, the God of Terror in three story built in 1718 AD. If you walk ahead for about 20 minutes you will come to another square of a Dattatraya temple built in 1427 AD from a trunk of single tree. Behind the temple there is a monastery where you will notice exquisitely carved door frame and windows and also a famous peacock window back wall of the monastery.

Changu Narayan: The temple of Narayan (Vishnu) at Changu is the most ancient and venerated Vaishnav shrine in Nepal. It is believed that the temple built in early 5th century AD which situated at the end of long ridge which runs well into the valley. This place is to the northeast 20 km from Katmandu through the countryside. It commands most magnificent views of Katmandu valley and Himalayas ranges on the back ground. This is also a most important historical, religious place where we can see number of finest stone pillar, images, sculptures dating back to 5th-9th century AD. This is also known as living monumental garden.

Nagarkot
Nagarkot, located 32 kilometers east of Kathmandu, is one of the most scenic spots in Bhaktapur district and is renowned for its spectacular sunrise view of the Himalaya when the weather is clear. Visitors often travel to Nagarkot from Kathmandu to spend the night so that they can be there for the breathtaking sunrise. Nagarkot has become famous as one of the best spots to view Mount Everest as well as other snow-topped peaks of the Himalayan range of eastern Nepal. It also offers an excellent view of the Indrawati river valley to the east. With an elevation of 2,195 meters, Nagarkot also offers a panoramic view of the Valley and is described by visitors as a place whose beauty endures year round.

Day 04: Nagarkot-Kathmandu
Early morning Sunrise view over the Himalayan Panorama. Drive to Patan for sightseeing tours. Overnight stay in Kathmandu.

Patan Durbar Square: The ancient city Patan is also known as Lalitpur, which literally means city of beauty. The city lies 5 km to the south of Katmandu. The whole complex of Durbar Square consists of different sections of ancient palace like Sundari Chowk (beautiful court yard) where exquisite windows and door carving are seen and the Tushahity (Royal Bath) a master piece of stone carvings and others are Mul Chowk (main court yard), Keshav Narayan Chowk. In front of the palace in the main square there is a statue of King Narendra Malla sitting on the stone pillar. Next to the pillar there is a famous Krishna Mandir temple with 21 pinnacles built all in stone. This is said to be a Shikhara architect from India. Rest you will see several pagoda style temples like temple of Bhimsen, and the public bath, dragon headed spout and the water runs 24 hours. There are also many other famous Buddhist temple like Hiranya Verna Maha Vihar (the Golden temple) and Maha Bouddha with ten thousands Buddha's images. Most of the people of Patan city are Buddhists. Patan is also very famous in its art work. There are many fine craftsmen in Patan who produce bronze/brass art work in different images/statues of Hindu/Buddhist Gods and Goddesses, silver jewelleries, wood carvings,. Most of the handicrafts you see in the local shops of Katmandu valley are produced in Patan.

Day 05: Kathamandu
Sightseeing tours to Kirtipur, Dakshinkali and Chobhar. Overnight stay in Kathmandu.

Kirtipur: Kirtipur is also a very important city for its old cultural monuments. It lies about 8 km to the south-west of Katmandu on the top of a hill. This is an old Newar village town and people are farmers and living in old traditional culture. The town offers to see many old temples such as Bagh Bhairav Temple, Uma- Maheshwar Temple including number of stone and wooden sculpture.

Dakshinakali: It is about 21 km drive through the country to the south of Katmandu. The spectacular views of beautiful landscapes, terraced farmlands and Himalayan ranges on the back ground can be seen while on drive. The road ends right at the temple. Dakshinkali , the supreme Hindu powerful Goddess is worshiped and animals like male-goats and roosters are also sacrificed. This type of rituals take place twice a week Saturday and Tuesday. On our way back visit Shesh Narayan temple dedicated to Lord Vishnu and a Buddhist monastery where you will find the Lama monks chanting the prayers. Also visit of Chovar gorge through where the water of the valley is drained out.

Day 6: Transfer to Airport for departure from Nepal.