It is our pleasure to introduce you to a heavenly view of the highest peak in the world. Most people only dream of climbing Mt. Everest or visiting it once in their lives. You too can come here and have wonderful adventure experience. The Everest trek of the Khumbu region, it the most popular trekking destination in Nepal. The main goal of this trek is either the Everest base camp trek (5,340m) or Kalapatthar (5,545m) on the south of Mt. Pumori ( 7,161m), which provides an amazing view of Mt. Everest. There are other popular places such as Namche Bazaar (the administrative headquarter of the Khumbu region), Khumjung or Thame (a typical Sherpa village) and Tyangboche Monastery . Even if you are not very fit to face this trek we can help motivate you all the way to your destination with our experience and techniques in the Himalayas. We are very proud of our very experienced team.

Generally, we start our trek from Kathmandu to Lukla, via a spectacular short flight (30 minutes) above the mountains. Following our landing, our adventure begins. During the trek, several days can be spent exploring the homelands of Sherpa people and seeing Buddhist monasteries as well as mysterious views of Mt. Everest and its neighboring peaks. We usually spend two nights at Namche Bazaar, the busy market in the heart of Sherpa country and see clusters of houses set among the high summer grazing pastures of the region. We spend our time exploring and acclimatizing in Namche Bazaar, which is extremely important for you to fully enjoy the trek. Those who have fully acclimatized may trek to the Everest Base Camp however, the awe- inspiring views of chaotic ice sculptures of the Khumbu Glacier, Nuptse and the southwest face of Everest itself are the main focal points of many trekkers. You generally share the trail with yak trains and Tibetan nomads and can choose to stay in simple but warm, welcoming, and homey guesthouses at each place during your trek even if they are very remote. Treks can vary from one week to more that a month.


Trip Itinerary
Day 01 Arrival  in Kathmandu (1,300m)
Heartily welcome to country of Himalaya. One of Vista Trek`s team member will pick  you at the Tribhuvan intl. airport with the garland  and assists you to transfer in your hotel in Kathmandu. After checking at the hotel and refreshment, you will be welcomed at our office. Brief discussion about trekking, introduction with the guide & porter and payment for the trip. Overnight at Hotel.

Day 02 Fly to Lukla (2,800m) & trek to Phakding (2,650m), 3-4 hrs walk
Early morning we fly  to Lukla from Kathmandu.After 30 minutes  scenic flight, arrive in Lukla. Having first breakfast in the mountain,we start our trekking to Phakding village. After the lunch, we look around the village. Overnight at Hotel.

Day 03 Phakding to Namche Bazaar (3,440m), 5-6 hrs .
After breakfast we will continue our trek following Dudhkoshi river. We cross it  twice to reach Monjo village by small suspension bridge which is also  the entrance gate of the Sagarmatha National Park. After descend walk of about 20 minutes we reach to Jorsalle village, the last village till Namche Bazaar.After Jorsalle village, follow the Dudhkoshi river with gradual walk for half an hour and again crossing the suspension bridge, we walk all the way up to Namche Bazaar for couple hour, which is well known as the capital of Khumbu region.

Day 04 Acclimatization day at Namche Bazaar.
Today is our rest day for the acclimatization. After the breakfast, we make short excursion around Namche Bazaar, visiting Sagarmatha national park head quarter and Everest view hotel for the panoramic view of many white peaks.

Day 05 Namche to Tyangboche (3,867m) 5-6 hrs walk
After breakfast we start our trek to Tyangboche. Today we have such a pleasant walk as we have great views of   Everest, Nuptse, Lhotse, Ama Dablam, Thamserku and Kwangde peak. After crosing Dudhkoshi river, it will be hard walk to Tyangboche for slightly more than an hour as the trails leads up hill. After the uphill, you will be right at the Tyangboche village where beautiful Mt. Amadablam and big monasteries will come to your eyes first.

Day 06 Tyangboche to Dingboche (4,358m), 5-6 hrs walk
After breakfast, we start our trek down to Diboche village through the rhododendron forest and crossing the bridge, we arrive one of the beautiful village in Pangboche.The trail continue to Dingboche as Mt. Amadablam get closer and closer. After 5 hours pleasant walk, finally we arrive in Dingboche which is also the gateway to Chukung Village and Islang peak.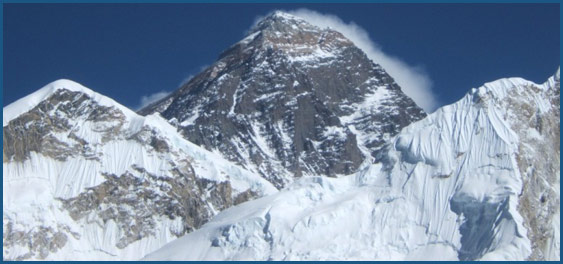 Day 07 Acclimatization day at Dingboche
Today is another rest day for the acclimatization. You may have full day rest or have an excursion around to village or even consider a day walk to Chhukung Village. The view is awesome as the mountain like Thamserku, Khangtega, Taboche, Cholache as well as Mt. Amadablam are shinning in front of our eyes.

Day 08 Dingboche to Lobuche (4,928m), 4-5 hrs walk
After the breakfast, we start our walk. The trail goes gradually up to Thukla. Pleasant uphill walk bring you at the memorial park of the climber and finally to your guesthouse in the Lobuche village.
Day 09 Trek to Gorakshep (5,160m) & hike to Everest Base Camp (5,320m) 7-8hrs walk
After having breakfast early in the morning,we continue our trek to Gorekshep Village. After having wonderful walk about 3  hours  in a windy and rocky path, we arrive in Gorakshep.  After check in at lodge & lunch, we  continue our adventure  towards Everest Base Camp and to the Khumbu Ice-fall. During spring season, all the climbers gather in Everest Base Camp with colorful tents can be seen as if we are in snowy tents park.After exploring base camp and its surroundings glacier, we return back to Gorekshep.Wonderful view of Mt. Pumori, Mt. Nuptse and other magnificent peaks, we complete our adventure for today.

Day 10 Early in the morning, hike to Kala Pathar(5,550m) & trek back to Pheriche 6-7 hrs walk
Early in the morning,  we start hike up to KalaPathar for the most wonderful sunrise views of the Mt.Everest. After climbing for couple hours, we arrive in the famous view point, the top of Kala pathar.  Now we have the best view of Mt. Everest, Nuptse, Pumori and Ama Dablam along with the entire mountain views of Khumbu Himalayan range.Spending some time to take photograph  here, we  hike down to Gorekshep. After breakfast, we will have easy walk down to Pheriche for overnight.

Day 11 Pheriche to Namche Bazaar(3440m), 5-6 hrs walk
After breakfast, we start our trek. Going down is easier and faster. With great memories of those spectacular views, we trek through pangboche, Tyangboche, Kyangzuma and to Namche Bazaar for overnight.

Day 12 Namche to Lukla(2800m), 7-8 hrs walk
After breakfast, start our trek.Today is also easier as 4~hours pleasant walk bring us to Phakding village for overnight.

Today is  our final day of walking. After breakfast we start our trek with descend path to Dudhkoshi River. Afterwards the trips goes ups and down all the way to Lukla for the overnight. In the evening, you can celebrate your last dinner with your crew member.

Day 13 Fly back to Kathmandu.
Today early morning flight back to Kathmandu and transfer to hotel. After completing the adventure,  you can relax and rest at your hotel. In the evening, we welcome you to our office for  your feed back of the trip. Afterward we will have fare well dinner together. Overnight at hotel.

Day 14 Departure from Kathmandu
This is your last day in Nepal. You can do shopping or buy some souvenirs for your family, friends or relatives until your departure to airport.  We will  transferred to the International Airport for your departure  your onward destination.
Thank you for traveling with us.