Nepal Peak Climbing >> Island Peak Climbing
Island peak stands at 6,189 m. (20,305 ft). This trekking peak provides a challenging but achievable alternative to full scale mountaineering expeditions and gives you a chance to stand on top of a Himalayan peak. Trekking peaks do vary in terms of difficulty from non-technical plods to very technical climbs. Island peak is mostly a plod up but does require the use of an ice axe and crampons and there is one part where a rope is needed.
Trip Facts:
• Places cover: Lukla/ Namche Bazaar/ Gokyo/ Cho-La/Everest Base Camp/ Island peak
• Package price per person US$1850
• Minimum group size : 2 person.
• Trip duration: 22 days
• Trip Type: Tea house/ camping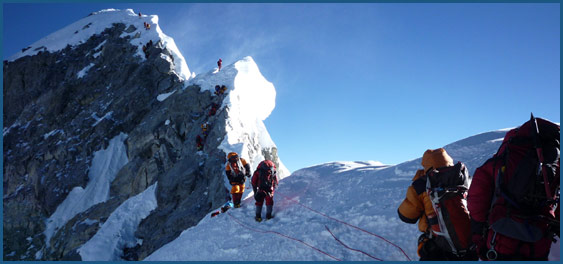 Trip Itinerary
Day 01 Arrival to Kathmandu airport and transfer to hotel.
Day 02 Leisure day in Kathmandu for trekking preparation.
Day 03 Fly from Kathmandu to Lukla (2800m), trek to Phakding (2600m)
Day 04 Trek to Namche Bazar (3440m)
Day 05 Aclimitizaion day in Namche
Day 06 Trek to Dole (4000m)
Day 07 Trek to Machharma (4400m)
Day 08 Trek to Gokyo (4750m)
Day 09 Trek to Thangna (4600m) Via Gokyo-Ri (5350m)
Day 10 Trek to Jongla (4600m) Via Cho-La pass (5400m)
Day 11 Trek to Gorakshep (5180m).
Day 12 Hike to Kalapathhar(5550m)-Trek to Lobuche(4910m)
Day 13 Trek to Chhukung (4700m)
Day 14 Trek to Island Peak Base Camp (Overnight at tent camp).
Day 15 Rest in Islang peak Base Camp. (Incase for bad weather)
Day 16 Island Peak Summit (6190m) back to base camp. Overnight at tent camp
Day 17 Trek to down to Pangboche
Day 18 Trek to Namche (4410m)
Day 19 Trek to Lukla (3800m)
Day 20 Fly back to Kathmandu
Day 21 Kathmandu valley sightseeing, farewell at the evening.
Day 22 Transfer to airport for onward destination.