Makalu Trekking
Makalu trekking in eastern Nepal is protected by the Makalu Barun National Park and Conservation Project. Established in 1992, it covers 2330 sq km. Among the 16 mountains in the park, it is home to Makalu, the fifth highest mountain in the world (8463m/ 27,766ft).

The world's fifth highest mountain, and formerly a restricted area, it spans five major ecological zones where can be found the lush, tropical Arun Valley, dense forests or rhododendron and fir and alpine meadows that lead to the might Barun glacier. From the base camp, one can view the spectacular Mt. Makalu.

This mainly low altitude trek is centered on the Arun Valley, in eastern Nepal. The sub-tropical valley floor of the mighty Arun River is in places densely forested, contrasting with the terraced slopes higher up, which are farmed by villagers of diverse tribal groups. High pastures typify the upper slopes, which border on the Makalu-Barun National Park, an important conservation area for many threatened species.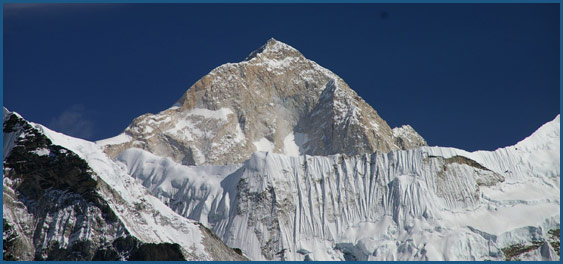 Trip Itinerary
Day 01 Arrival at Kathmandu airport and transfer to hotel. Group meeting programme for detailed information about trekking, overnight at hotel.
Day 02 Preparation for the trek.
Day 03 Flight from Kathmandu to Tumlingtar, trek to Khandbari.
Day 04 Trek to Chichila.
Day 05 Trek to Num.
Day 06 Trek to Sedua.
Day 07 Trek to Tashigaoun.
Day 08 Trek to Khongma.
Day 09 Trek to Mumbuk.
Day 10 Trek to Yangle Kharka.
Day 11 Trek to Shersong.
Day 12 Trek to Makalu Base Camp.
Day 13 Rest day.
Day 14 Trek back to Yangle Kharka.
Day 15 Trek back to Mumbuk.
Day 16 Trek back to Khongma.
Day 17 Trek back to Tashigaoun.
Day 18 Trek back to Num.
Day 19 Trek back to Chichila.
Day 20 Trek back to Mani Bhanjyang.
Day 21 Trek back to Tumlingtar.
Day 22 Flight back to Kathmandu, overnight at hotel.
Day 23 Transfer to airport for departure from Nepal.