Nepal Peak Climbing >> Tent Peak Climbing
Tent Peak known as Tarphu Chuli is situated in the heart of Annapurna Sanctuary at an elevation of 5850 meters. This is the perfect opportunity for those who want to summit a Himalayan peak on a smaller scale than all the other peaks.

Traveling along local trails, through forests, villages and terraced farmland, the region treats you to unparalleled mountain scenery, giving you an inside experience into the Nepalese life and culture. An interesting climb combining glacier views, face climbing and tiptoeing on knife ridges, this mountain offers an unparalleled view of the entire Annapurna Sanctuary. A breathtaking circle of hanging glaciers surrounded by some of the highest peaks on earth. The normal route follows the North-West Ridge to the summit although the mountain has been climbed via the South-East Ridge as well as South-West Face.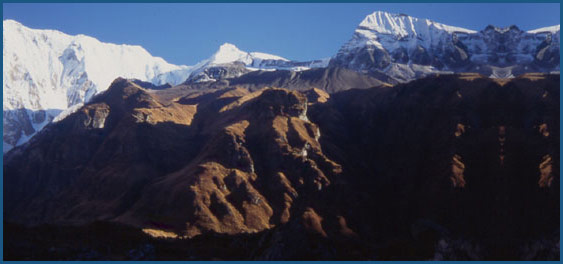 Trip Itinerary
Day 01- Arrival in Kathmandu, visit our office for the detail of the trip, Overnight at hotel.
Day 02- Sightseeing around Kathmandu valley, overnight at hotel.
Day 03- Drive to Pokhara (900 meters) 7 hours by tourist bus, overnight at hotel.
Day 04- Drive to Nayapul (1010meters) and trek to Tikhedunga (1570meters) 3 hours, overnight at the guest house..
Day 05- Trek to Ghorepani (2840meters) 6:30hours, overnight at the guest house .
Day 06- Hike up to Poon Hill (3210meters) and trek to Tadapani (2610meters). . Overnight at guesthouse.
Day 07- Trek to Chommrong (2140meters.) 5 hours, Overnight at guest house.
Day 08- Trek to Dovan (2500meters) 5.30 hours,Overnight at guesthouse.
Day 09- Trek to Deurali (3200meters) 4 hours, overnight at guest house.
Day 10- Trek to Annapurna Base Camp (4130meters) 5 hours, Overnight at guesthouse.
Day 11- Trek to Tent peak Base Camp (4400meters) 4 hours, Overnight at tented camp.
Day 12- Trek to High Camp (approx 5000meters), Overnight at Tented camp.
Day 13- Summit Tent peak (5850meters) and return to Base camp, over night at tented camp.
Day 14- Trek to Deurali(3200 meters). 6 hour, Overnight at Guesthouse.
Day 15- Trek to Chommrong (2140meters), Overnight at Guesthouse.
Day 16- Trek to Ghandruk(1950 meters)5 hours,Overnight at Guesthouse.
Day 17- Trek to Nayapul (1010metrs) and drive to Pokhara, Overnight at Hotel.
Day 18- Pokhara City tour, Overnight at Hotel.
Day 19- Drive back to Kathmandu (1345meters), Overnight at Hotel.
Day 20- Leisure day in Kathmandu. Farewell at the evening.
Day 21- Transfer to Airport for departure from Nepal