Nepal Peak Climbing >> Mera Peak Climbing
The first ascent of Mera was made by Jimmy Roberts and Sen Tenzing on 20 May 1953, who appeared to have climbed the central summit. The next recorded ascent was not until 1975 when French Climbers Jolly, Baus and Honills climbed the north summit. Mera is among the highest of Nepal's official trekking Peaks.

This superb trek takes us right through the Khumbu region with some wonderful views of the major peaks in the area including Everest itself. Whether you want to attempt the summit or just go alone for a trek, you will feel as though you have taken part in a real Himalayan expedition. The climb is not technical, but you will need good adaptation to altitude and basic knowledge of ice axe and crampon techniques.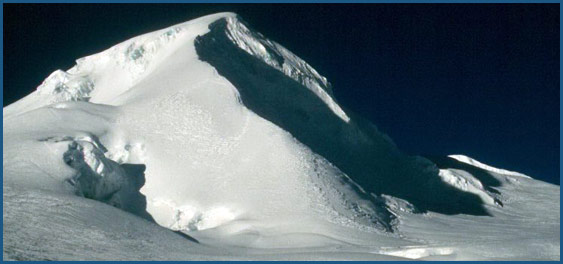 Trip Itinerary
Day 01 Arrival to Kathmandu airport and transfer to hotel.
Day 02 Kathmandu valley sightseeing, overnight at Hotel.
Day 03 Fly to Lukla and trek to Phakding.
Day 04 Trek to Namche Bazaar.
Day 05 Acclimitization day in Namche Bazaar.
Day 06 Trek to Thyangboche.
Day 07 Trek to Dingboche.
Day 08 Trek to Chhukung.
Day 09 Trek to Anphulaptsa Base Camp.
Day 10 Trek to Anphulaptsa and Mera La.
Day 11 Trek Mera Base Camp.
Day 12 Rest day in Base Camp.
Day 13 High Camp.
Day 14 Climb Mera Peak and Return to Base Camp.
Day 15 Trek to Tangnak.
Day 16 Trek to Kothe.
Day 17 Trek to Thuli Kharka.
Day 18 Trek to Lukla.
Day 19 Fly back to Kathmandu.
Day 20 Leisure day in Kathmandu, farewell at the evening..
Day 21 Transfer to airport for onward destination.